The Ruts Shine On
Dave Ruffy

in conversation
The Ruts were Malcolm Owen (d. 1980) – vocals; Paul Fox (d. 2007) – lead guitar; John 'Segs' Jennings – bass; and Dave Ruffy – drums. Years Active: 1977-80.
What do The Waterboys, Prefab Sprout, Dexy's Midnight Runners and Marc Almond have in common? They are among the many artists musician Dave Ruffy has worked with. He is most well known as the drummer with The Ruts, one of the most influential punk groups from the late 1970s, which continues to this day as The Ruts DC. When we caught up with him, he was busy setting up his studio in a new house having recently moved out of London. Already on the wall were several framed gold and silver discs for his work with Kirsty MacColl and Aztec Camera.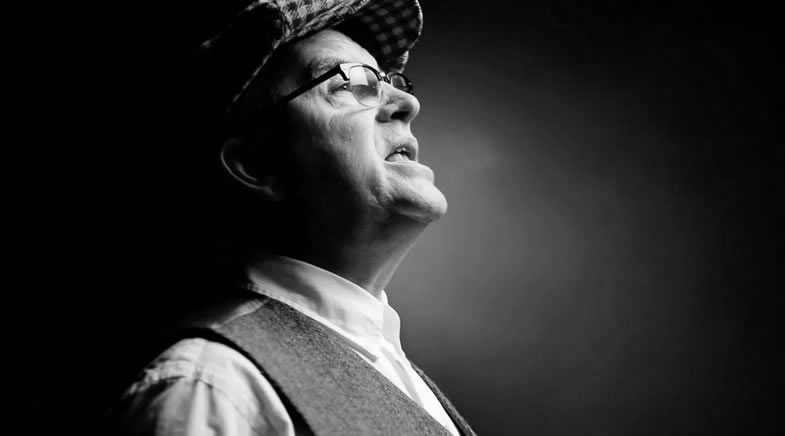 If you wait it's too late
"It all started in 1975 with Paul Fox, who started a 10-piece soul and funk band called Hit And Run," Dave says. With black-framed spectacles and a smooth pate, his relaxed and genial manner projects an avuncular persona, someone you warm to instantly. "When their drummer Rusty Egan left – he went to the Rich Kids and later became the Blitz DJ – I joined. I was working in a record shop at the time."
Dave managed James Asman's Record Centre in Cannon Street. Asman, a jazz critic renowned for his beard and his acerbic opinions, owned a chain of shops in London. "As it was in the City, I didn't work Saturdays and my hours were ten to six. I thought "Wow! This is brilliant." I loved the freedom. Music brings people together – even if you're just talking about records. "Have you heard this? Check this out?" Sprinkled among his reminiscences are little gems of wisdom, revealing someone who has not only lived life but thought about it too. Quoting Mark Twain, he says: "If you find a job you love, you never do a day's work in your life."
The record shops moved slowly with the times. "I ran the upstairs, selling the pop stuff. It was just albums until punk rock – then we starting doing singles. I knew there was something in the air regarding punk." Punk was more an attitude than a music genre, inspiring youth of all backgrounds and abilities to have a go. "So Fox, his friend Malcolm Owen, who played a bit of rhythm guitar, and I started a new band. I knew Segs (Jennings) – he was a customer – and asked him if he would play bass. When we were young, if anyone asked you whether you could do anything, you just said "Yes'. If you waited until you were qualified it was too late."
The Ruts were born. "When we formed we never thought we'd see 1984 – you know, Orwell and the Cold War. We lived our lives like that. If I had known I'd live this long, I would have taken better care of myself!" he jokes.
The first single In A Rut was released in January 1979 on the indie label People Unite. After two John Peel sessions on Radio 1, they signed with Virgin. Some punk purists saw this as a sell-out to the establishment and big business. "It wasn't a sell-out," Dave insists. "We signed for Virgin because the people were brilliant – they knew everything about us and had come to see us play. We really liked the people."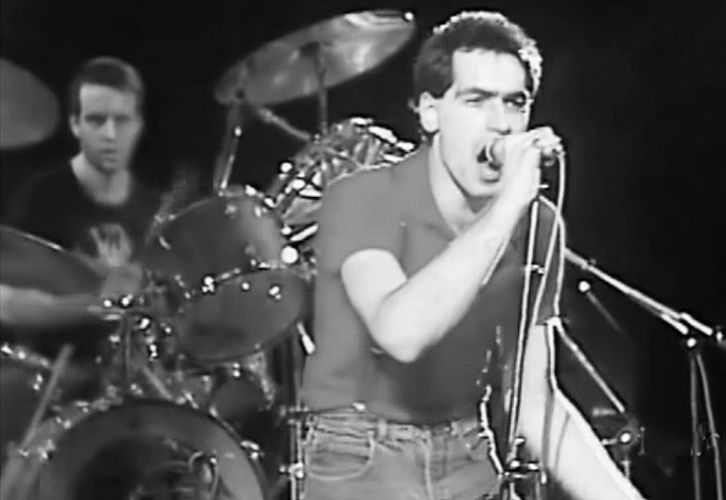 A dream come true
With a big label behind them, the group had greater opportunities and soon made their first appearance on Top Of The Pops. Their first appearance was for Babylon's Burning, broadcast on 5 July 1979. The single was No. 21 in the chart, but after a powerful performance, complete with flaming graphics at the bottom of the TV screen, it reached No. 7 the following week. It remains one of the highest charting punk singles of all time. "We were writing songs about real things, not frivolous stuff. You wouldn't get Babylon's Burning in the charts now – not in a million years."
Dave fondly recalls his Top Of The Pops experience: "It was fabulous, a dream come true for a working class lad, although it was hard work. You were there the whole day." Being at the BBC Centre all day had its perks, however. "This was the 70s so everyone drank heavily at lunchtime, especially at the BBC bar. I saw Tony Bennett there, and I've always rated him." The American singer was recording a six-part series called Tony Bennett Sings, which was broadcast on BBC2 that September. "I went over, and we must have talked for 15 minutes like he actually knew who I was! He was an absolute gentleman, although he looked pretty old to me even then. I told him it was our first time on TV, and he was very supportive."
The second appearance was on 6 September 1979, when they opened the show with Something That I Said, which had entered that week's chart at No. 45. The following week it had climbed into the Top 20 but went no higher. Both of these singles were taken from the group's first album, The Crack, which peaked at No. 16 the following month. It was an impressive debut album, with a diversity rarely seen in a punk group, from high-tempo rock to white-reggae with politically-charged lyrics, especially about racial tensions and police brutality, which remain relevant today.
Cover art theft
The cover artwork has a history that few albums can rival. It features many luminaries in the punk and indie music scene at the time, with The Ruts taking centre stage sitting on a sofa. "The artist was John Howard, and he stole it back from us," he laughs. "You see, we bought the artwork and we intended to rotate it among the band, each having it for a bit. Later John says, "I've got an exhibition – can I borrow the painting?" We said, "Sure." It's a big painting, about five feet by five feet, and he found it stuffed behind a piano upstairs in the pub run by Foxy's parents. He was really miffed.
Perhaps that's one reason why John Howard sold 'The Party' to a New York art collector, who had no idea of its connection to The Ruts. At the buyer's request, Howard painted the new owner into the artwork. Over 30 years later, Henry Rollins, the American punk rocker, TV presenter and Ruts superfan, managed to track down the painting and acquired it. "Now it's slightly different," Dave remarks. "If you have a look, you might be able to see them." Never one to shy away from a challenge, we found six differences in the painting compared to the original album cover.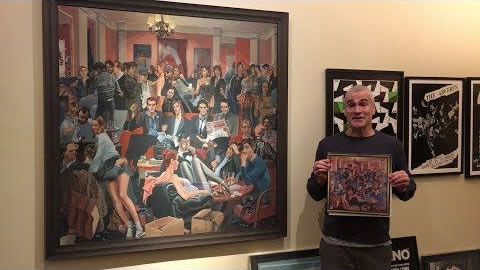 Thunder and lightning
Jah War, a third single from the album, failed to chart, although the white-reggae classic showed The Ruts were musically more versatile than many of their peers. "We like roots music," Dave explains, "something with tradition and feeling, and real stories. We used to jam with Misty In Roots – reggae was an antidote to punk." Jah War is a polemic about the Southall Riots of April 1979 in which protestor Blair Peach was killed and Misty In Roots member Clarence Baker was severely beaten by police. As the lyrics eloquently stated, "Hot heads came in uniform Thunder and lightning in a violent form."
When The Ruts appeared on Top Of The Pops with Staring At The Rude Boys on 17 April 1980, the future looked bright – a forthcoming UK tour was sold out, an American tour was in the offing and a new album planned. "I think we were a remarkable four piece, I really do. You become part of a thing that's greater than the sum of its parts. We were playing at a hell of a rate but balanced, measured. Not many people get to be in a band as good as that." Malcolm Owen gave another great performance but it was the last time The Ruts would perform on TV. Less than four months later, he was dead from a heroin overdose.
What might have been
Owen's addiction had caused friction within the group. "To put the record straight, we had fired Malcolm. We couldn't get him to turn up, or come to rehearsals or anything." Despite Malcolm's unreliability, there was talk about collaborating again. "But we were really close. We saw Malcolm on the Friday before when he came out of rehab – he was weak and looked unwell. We went in the studio over the weekend to work on some more material and had a meeting with Virgin on the Monday afternoon. Just before we went in, we were told the news that he was found dead in his bath."
Punk's greatest vocalist was gone, and so had the chance for The Ruts. "As much as we loved him, we were pissed off with him for messing up our opportunity. We were on the up. We were going somewhere fast and then suddenly everything was pulled away from under us." The press gave no eulogy for Malcolm, unlike Ian Curtis of Joy Division who had tragically died a few months earlier. "The press largely hated us. Joy Division were seen more 'art school' and intellectual, if you will, and we were seen more as working class. Only a couple of journalists liked us, even though we had more success than them at the time. It was unfair, but it is just the way the press works." He adds ruefully, "It was terrible the way Malcolm died."
At the end of August, The Ruts posthumously released West One (Shine On Me), the group's most polished single. Poignantly, Owen sings about isolation and helplessness. "It's a great song, one of our best," Dave agrees, but it provokes conflicting emotions. "I feel very proud but also sad because it was the end of The Ruts, in terms of the original line-up. It is a testament to what we might have achieved if it was not for Malcolm's untimely death."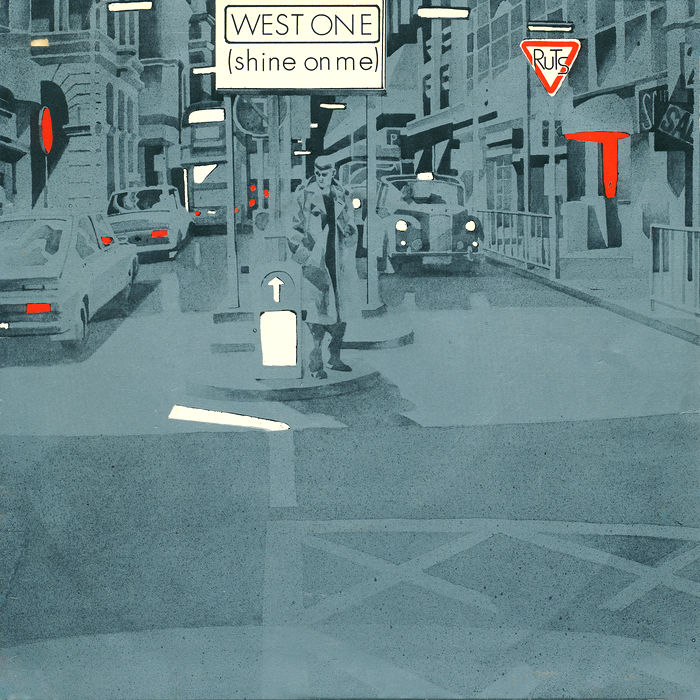 Without Malcolm
Naturally, the group wanted to promote the single. "We wanted to make a video where we could use images of Malcolm, as we knew we would get some play and a chart position. Even though we would have ended up paying for it, Virgin refused to cough up for a video." The Ruts were invited to perform West One on Top Of The Pops. "We could not do without Malcolm, of course, but Virgin wanted us to go on and Segs to mine to Malcolm's vocal – we were furious and refused point blank." The hurt clearly evident even four decades later, this is the only time that the convivial drummer is moved to anything like anger. There was no video and consequently no Top Of The Pops appearance, and the single stalled just outside the Top 40.
Although there were no more singles, there was a final album. "We insisted that Grin And Bear It was put together and released." Although it led with West One, it was mostly a compilation of singles and B-sides. Released in October 1980, it reached No. 28; it was the last time The Ruts were in the charts. The adventure was over. "Suddenly, it was all gone. The Ruts only lasted three years from formation until Malcolm's death."
Back to the beginning
The remaining trio wanted to continue. "Virgin insisted that the line-up had to include The Ruts name. We came up with The Ruts DC as a compromise and now I'm glad we did. At the time, we wanted to be called something completely different." The DC stands for da capo, a musical term meaning "back to the beginning", although it wasn't strictly starting over. "We had a cross-collateralised deal – our income was offset by studio costs and everything. We were in debt after using top-dollar Virgin studios and suddenly lost it all. We were floating around, we didn't have any money coming in, our manager was depressed after Malcolm's death – we were left scrabbling around."
The first album by The Ruts DC was Animal Now. A criminally underrated recording that includes the brilliant dub infused 'Fools' a pointer to the direction of the second lost Ruts DC classic, Rhythm Collision, released in July 1982 on the independent label Bohemian. "It was liberation without any pressure from the record company. Really proud of it, and it became quite influential. It was our record label so we earned good royalties, even though it was not a huge seller. It kept us alive for three years."
The following years saw each member concentrate on different projects. "You know, we were working musicians – we just wanted to work. I became a really successful musician in my own right, working with The Waterboys, World Party, Aztec Camera, Prefab Sprout, Mica Paris, Pete Townsend and Roger Daltry. I spent a few years producing. I was Kirsty MacColl's MD (musical director) and co-produced her last album Topical Brainstorm. I earned enough money to buy a flat – I did all right."
The spirit of punk
After Paul Fox's death from lung cancer in 2007, the Ruts DC released two more albums, including Music Must Destroy, which featured Henry Rollins on vocals on the single of the same name. "Really proud of that. It's in the spirit of punk rock – do what you wanna do." There is a new album out, too. ElectrAcoustiC musically re-interprets some of the classic Ruts songs – stripped down and beautifully arranged. "It shows the strength of the songs." Indeed, you might be forgiven for thinking that some of the tracks are about contemporary issues. They are – it shows The Ruts were writing songs about real issues that have not fundamentally changed in 40 years and are a tribute to Owen's lyrics. "The Ruts live on in as much as we play the songs."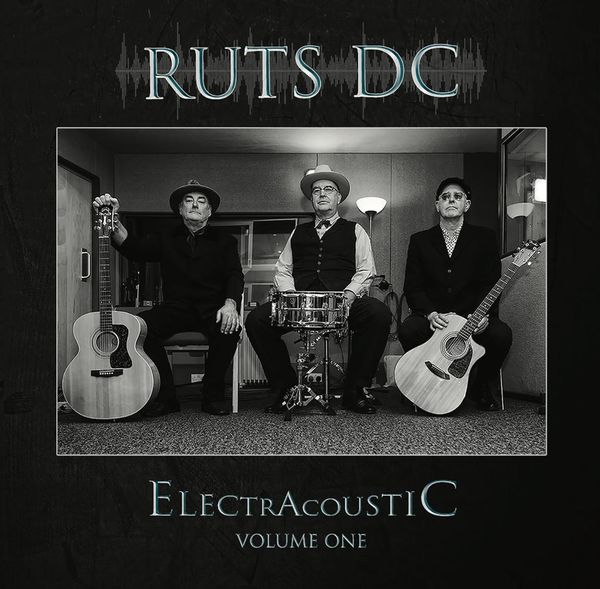 Despite the coronavirus pandemic, Dave is enthusiastic about the future. "There's a new album in the pipeline. The best is yet to come, really. That's how I'm feeling. Despite the awful times, I'm feeling really optimistic. I just feel like at the top of my game – I'm playing the drums better than I ever have. Creatively, I feel fearless. I trust my judgement. And that's one thing about getting older, by the way: your judgement gets better."
This is evident in ElectrAcoustiC, which showcases the musicianship of The Ruts DC. They remain true to their punk roots. "We are essentially an indie band, so we have a small but loyal fan base. I think we're the best punk group still around from that era and playing live. There's a lot of love for The Ruts."
Indeed there is. Amiable, engaging, proud of his past and looking forward to the future, Dave Ruffy is a great advert for maturing musicians. Or as the inimitable Ian Dury might have said: there ain't half been some nice punk rockers haven't there?
ElectrAcoustiC is available on CD and instant album download from the Ruts DC website
Babylon's Burning made No. 3 in our Top 20 Singles of 1979. West One (Shine On Me) made No. 8 in our Top 20 Singles of 1980.