About The Wall
The Wall showcases our favourite singles between 1977 and 1985. We firmly believe this period represents The Golden Years of the British Single because sales reached an all-time high, the variety and quality of the music has never been equalled and innovations such as the picture sleeve, promotional video and 12" extended mixes reached their zenith. Read more about The Golden Years.
Virtual Record Collection
During this period we were teenagers growing into young adults and avid record collectors. Although we had different tastes, we liked to create a montage of single covers on our bedroom walls, a kind of visual shrine to our turntable heroes. It was the the memory of this bygone ritual that inspired us to create The Wall – an online version that celebrates our record collection. It is where we pay homage to the singles and artists of the Golden Years. Our aim is to create a virtual record collection where you can almost handle a single, see the labels and even turn the sleeve over.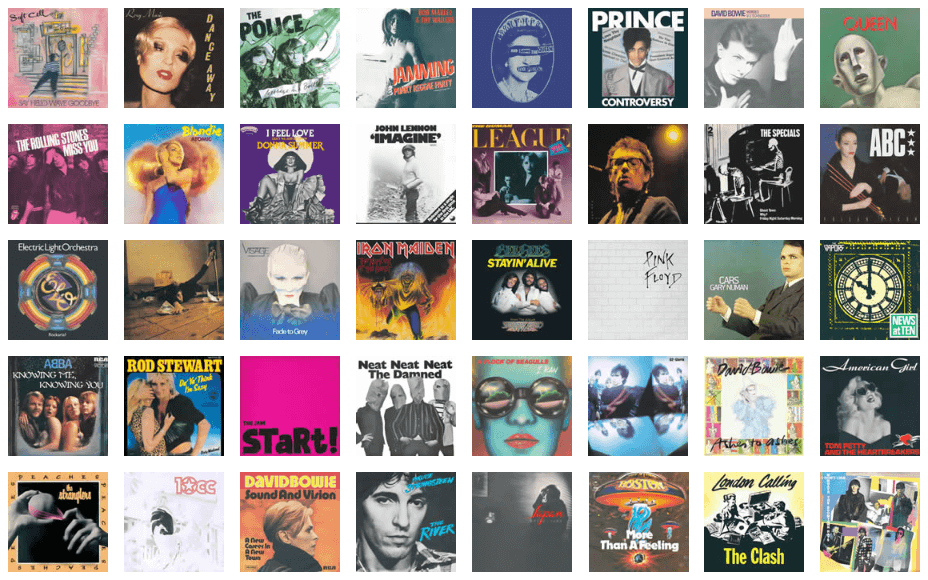 The Stories Behind The Songs
But we want to do more than just show you the cream of our collection – we wish to tell the story behind every single on The Wall. Each comes with a write-up, and these are not mere reviews. Some tell the story of how the single was written, others explain a song's social or cultural significance and we also explore the lyrics.
Year By Year
You can choose which wall to display. For each of the Golden Years we present our Top 20 singles. All the singles reached their peak position on the official UK chart between 1977 and 1985 or, if they failed to chart, were released during this period. You can also randomly display a large assortment of the singles – you can then browse through them as you please.
A Personal Endeavour
The Wall graphically displays our top picks from our actual record collection – we do not presume they are your favourites. However, we have an eclectic taste and many genres are represented. For those that are old enough to remember The Golden Years, we hope you will recognise many singles on The Wall. If you are too young, we hope this will become your portal to explore some of the greatest songs during the heyday of the British single.

January 2021